NARS Orgasm X Collection Review & Swatches – Summer 2020
*Links marked with asterisks are affiliate links, these help Ree with running costs of the blog
There's a brand new NARS collection and it's pretty! Check out the NARS Orgasm X Collection. I have photos and swatches for you.
Orgasm from NARS is such an icon so it's super exciting that there's a brand new collection that includes eyeshadows too. We have had a little preview of the Orgasm X blush shade when it appeared in the brand's Spring 2020 Blush Edit.
What is NARS Orgasm X?
Orgasm X started as a new, deeper version of the original Orgasm blush shade and now a whole collection that includes palettes and quads has been built around it.
Blush in shade Orgasm X
Cheek Palette in Orgasm X
Quad Eyeshadow in Orgasm
Quad Eyeshadow in Orgasm X
Oil-Infused Lip Tint in Orgasm & Orgasm X
Mini Orgasm Eyeshadow Palette
Ultimate Orgasm Set
Selected pieces of the collection are available at:
NARS Orgasm X Swatches
I have a few of the pieces to show you here and will share my swatches. I am really enjoying this collection.
Cheek Palette Swatches
First up is the cheek palette which is a beauty. I am actually pretty obsessed with the Orgasm highlighting Powder – it is a stunning golden shimmer.
This palette also provides a brilliant opportunity to compare the two Orgasm blush shades.
Orgasm vs Orgasm X Blush
Orgasm Highlighting Powder, Orgasm Blush, Orgasm X Blush: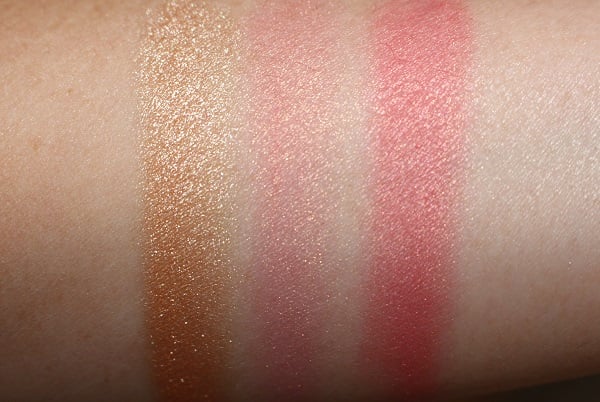 As you probably know, Orgasm is pretty peachy pink with gold shimmer. The X version is a much deeper affair that's moves more towards coral and has gold pearl. It will definitely work well on deeper skin tones or be perfect if you are looking for more of a statement cheek shade. It is louder on colour and quieter on shimmer if that makes sense!
Quad Eyeshadow in Orgasm Swatches
Both these quads are limited edition so grab them if you like the look of them.
Orgasm shades – Golden shimmer, Light pink champagne, Shimmering light cocoa, Matte Coral:
Quad Eyeshadow in Orgasm X Swatches
Orgasm X shades – Pink rust shimmer, Sparkling amber, Dusty rose matte, Black with red shimmer:
Oil-Infused Lip Tint in Orgasm X Swatch
I love these lip oils and it looks so great in the new shade.
The formula is anti-oxidant infused and uses water-absorbing molecules which to help create a fuller look. I'll include a picture of it on my lips soon.
Where to buy the NARS Orgasm X collection
Selected pieces of the collection are available at:
Please let me know if you have any questions, and stay tuned to the homepage and Instagram for news on all the latest launches and products. The Facebook page is here and make sure you also find me on YouTube.
Ree
XXX
Buy Now*
Unless otherwise indicated products reviewed are press or brand examples. Links may be affiliated links which means that if you make a purchase though one of our links we receive a small commission which helps support and run this website.