CeraVe SA Smoothing Cleanser & Cream for Bumpy Skin
*Links marked with asterisks are affiliate links, these help Ree with running costs of the blog
Buy Now*
The UK launch of US drugstore brand CeraVe has been a real success so it's brilliant news that the range is now expanding to include the Salicylic Acid products. Here's the low down on the CeraVe SA Smoothing Cleanser & Cream for dry and bumpy skin.
What does the CeraVe SA Smoothing Range do?
The CeraVe SA Smoothing range has some great consumer tests behind it. After using the SA Skin Smoothing Range, 94% of users felt that their skin felt smoother, softer and more hydrated after just 3 days. Additionally, improved skin barrier function was noted after only one hour.
Who is CeraVe SA Smoothing For?
These new cleansing and moisturising products have been designed to be used on the face and the body for anyone suffering from rough and bumpy skin including Keratosis Pilaris which affects 40% of adults and adolescents globally.
Keratosis Pilaris is a chronic yet harmless condition that's caused by a buildup of the protein keratin, which can plug the hair follicles and makes skin look and feel dry and bumpy. It can be pretty hard to get rid of and is pretty annoying. The new CeraVe SA Smoothing range has been formulated specifically to tackle this.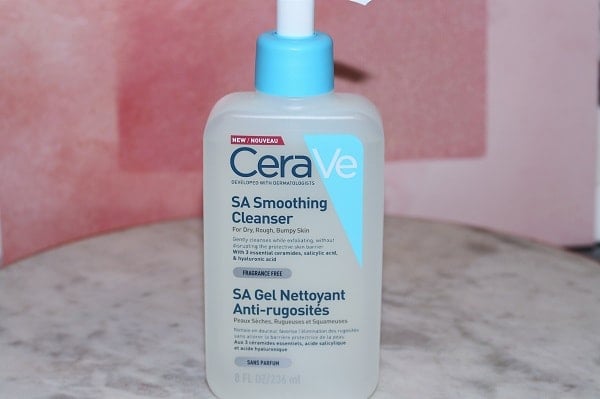 Active Ingredients and Actions
The key ingredient in this formula is Salicylic Acid which is an oil soluble beta hydroxy acid (BHA) often used to treat acne and congested skin. It is a brilliant exfoliator but can be drying on the skin which you don't want if you are treating bumps and dryness.
CeraVe have cracked this downside by combining the Salicylic Acid with their hero MVE technology and a trio of ceramides. This means it clears and exfoliates whilst also hydrating the skin and restoring the natural barrier.
CeraVe SA Smoothing Features
Both the cleanser and cream are fragrance-free, hypoallergenic and non-comedogenic. They are suitable for all skin types, from spot-prone to sensitive:
Salicylic Acid to exfoliate
3 ceramides protect skin's barrier
MVE technology ensures slow release of active ingredients
Urea gently exfoliates and hydrates
Hyaluronic Acid binds moisture to the skin
CeraVe SA Smoothing Cleanser
This is a gentle gel cleanser that has been formulated to deliver the same gentle cleansing action as CeraVe's much celebrated Hydrating Cleanser and Foaming Cleanser.
In addition, this new formula also offers skin-brightening exfoliation to improve congested or bumpy skin. It has been designed for use on the face, but can also be used on the body.
CeraVe SA Smoothing Cream
The cream is a multi-acid formula. As well as the Salycilic Acid (which is a BHA), it also contains Lactic Acid (an AHA). It is a deeply hydrating cream which is suitable for all skin types but ideal for anyone with dry, scaly skin and particulary Keratosis Pilaris.
As these aren't my skin concerns, I have someone with KP testing this. I am pretty confident that it will work wonders.
When Does CeraVe SA Smoothing launch in the UK?
The new cleanser and cream is available now at the following retailers:
The cleanser is £12 (236ml) and the cream is £12 for the tube (177ml) and £18 for the tub (340g).
Please let me know if  for you have any questions, and stay tuned to the homepage and Instagram for news on all the latest launches and products. The Facebook page is here and make sure you also find me on YouTube.
Ree
XXX
Buy Now*
Unless otherwise indicated products reviewed are press or brand examples. Links may be affiliated links which means that if you make a purchase though one of our links we receive a small commission which helps support and run this website.