Patrick Ta Major Headlines Collection BACK IN STOCK
*Links marked with asterisks are affiliate links, these help Ree with running costs of the blog
Buy Now*
Of all the Patrick Ta products I have tried, this is most definitely my favourite launch. Check out the Patrick Ta Major Headlines Matte Suede lipstick and Double Take blush duo collection. I have photos and swatches. The blushes that have been sold out for quite some time just came back in stock!! Run don't walk!
UPDATE 18th August 2020
The sold out blush just came back in stock HERE*. Don't hang around, these will sell out fast.
What is in the Patrick Ta Major Headlines Collection?
This is such a stunning launch and the formulas are absolutely beautiful. It is incredibly well executed, and as I said at the top, the most impressive launch from the Patrick Ta beauty brand so far, in my humble opinion.
I love both these products, but I have to say, the lipstick formulation is outstanding. If you love a matte lip, you absolutely have to try it!
This isn't to take away from the blush duos, which are also beautiful. This is a really innovative approach to blush, and it works incredibly well for adding dimension, a flush of health, and also the most flattering juicy finish in gorgeous hues. Love them.
Major Headlines Matte Suede Lipstick Shades & Swatches
There are four shades in this new lip formula:
She's Not From Here – tangy coral
That's Why She's Late – rich crimson
Oh She's Single – pale peachy-pink
She Must Be New – brown-berry
I am not really a fan of the names, I think they are a tiny bit cringey, but forget that! The formula, the finish, the feel, the shades, are amazing.
Swatches
Here are the swatches of She's Not From Here and That's Why She's Late:
Aren't they amazing!!?
I went straight in for She's Not From Here which is the most incredible bright orangey red: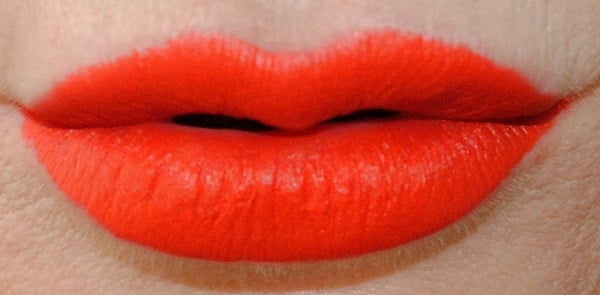 I could only do one lip swatch at a time as the colours are so long lasting and pigmented.
The formula is super lightweight and uses firm, flexible film-formers that 'set' the colour. There's an emollient blend to prevent dryness and to help to keep your lips supple and soft. The colour glides on effortlessly. The colour lasted all day, through eating and drinking, and needed to be properly removed at bed time. I am very impressed with performance.
Double-Take Cream + Powder Blush Duo Shades & Swatches
These blush duos are such a great idea, and blush lovers will adore them. There are four shade harmonies:
She's So LA – warm bronze and soft tan
She's That Girl – rosy pink and fuzzy peach
Oh She's Different – rosy red and warm, pinky coral
Do We Know Her? – hot, poppy orange and soft coral
Each compact contains two complementary shades of cream and powder blush for a bespoke glow.
Swatches
I have Do We Know Her? and She's That Girl:
I love both the shades, but as I decided to go for She's Not From Here on the lips, I opted for Do We Know Her? for blush which I think works really well with the lip shade. By the way, the nail colour is Nails Inc 45 Second Speedy Gloss in Paddington Peace Out*.
The formula is gorgeous. The cream blush is perfect for a dewy finish with a soft tint of colour, and the powder uses biomimetic pigments for a second skin finish, and micronised pigments treated with mica for a luminous effect.
Patrick suggests applying the powder blush over the cheeks focussing on the apples with a fluffy brush. Then you apply the cream over the top, to melt the powder into the skin and give a lit from within glow. I used my fingers to apply the cream, although PT says he uses a beautyblender*.
Where to buy Patrick Ta Major Headlines Lipstick and Blush Duos
UPDATE 12th July 2020
The sold out lipsticks just came back in stock HERE*. Don't hang around, these will sell out fast.
The new lipstick and blushes are available exclusively at Cult Beauty*.
Please let me know if you have any questions, and stay tuned to the homepage and Instagram for news on all the latest launches and products. The Facebook page is here and make sure you find me on YouTube.
Ree
XXX
Buy Now*
Unless otherwise indicated products reviewed are press or brand examples. Links may be affiliated links which means that if you make a purchase though one of our links we receive a small commission which helps support and run this website.